Beverage Marketing Corporation - 2012 Market Reports
Leverage our knowledge base to seize your next great market opportunity
At Beverage Marketing Corporation, we're celebrating 40 years as the industry's trusted resource for total market, all-sales channel inclusive beverage data and market insight. We're proud to be the industry's go-to-source for market reports, custom research, strategic and tactical consulting, and financial services.
It took 40 years to develop a knowledge base this robust. We continue to build and strengthen it, developing new product offerings to meet the evolving needs of beverage companies, industry suppliers and advisors. Our goal: to provide actionable market insights to help your business grow and profit, reaching milestones you can be proud of.
| | | |
| --- | --- | --- |
| Follow us: | | |
Why should you celebrate our 40-year milestone?
First, celebrate the confidence you'll have in your decisions, knowing they are supported by a third-party research provider with a solid history of data integrity, unrivaled access to industry leaders and a deep understanding of market opportunities and threats. But that's not all. As we celebrate our 40th anniversary, we've found several ways to help you maximize your budget by reducing your costs and/or giving you more for your money when you purchase BMC Reports. And that's something to celebrate!
| | |
| --- | --- |
| | Value Pricing—In celebration of our 40th anniversary, we've selected a number of key reports and made them much more affordable. Look for the Value Pricing Logo for radically lower every day pricing on select titles. |
| | |
| | Value Bundle—over the last few years, our Value Set reports have been so popular that we've added several opportunities to create your own value set. Watch for the Value Bundle Logo to get more market data at a substantial savings. |
Full market on- and off- premise perspective, plus key channel insights
Many research reports focus almost exclusively on select retail channels (scanner or FDMx), virtually ignoring as much as 80% of the market in some beverage segments! BMC Market Reports provide a total market view that includes all volume, plus category break-outs by key sales channels. Whether a beverage is consumed on-premise or off-, whether it is sold via large or small grocery stores, c-stores, foodservice, mass merchandisers, club stores, Wal-Mart, vending, etc., you can be confident it is included in our market totals.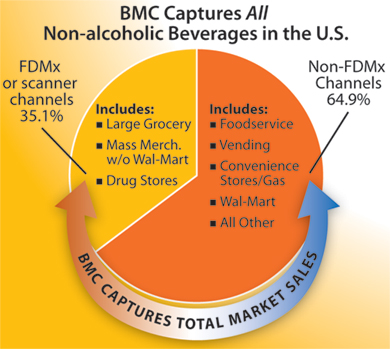 We take special requests.Tell us what you need. If by chance our detailed Market Reports or Focus Reports don't contain the information you're looking for, we also offer custom research, results-driven strategic and tactical consulting, and financial services to address your unique insight requirements and objectives.
For more details, contact Charlene Harvey at 212-688-7640 ext. 1962.